How quaint. I bet nobody even notices.
Look, it's nobody's fault necessarily.
Read up on the Keep Calm... poster here if you want, but essentially all you need to know is that a WW2 morale-boosting poster issued by the British government has been co-opted by all and sundry since its rediscovery in 2000. I was once a fan of the various parodies that would crop up here and there over the last few years, indeed I believe I still have a Fantastic Four-themed version in my cart at DeviantART from when I was umming and ahhing about how to decorate my flat earlier this year.
Modern Toss made me spit coffee in a shop when I saw this.
Recently, however...
It's getting stupid. While I appreciate that the font (Gotham, or a loose approximation), layout and simplicity is both recognisable and potentially ripe for effective and amusing reinterpretation, every Tom, Dick and Harry is getting in on the act, lessening the impact with each attempt. Primark had some in the window around the time of the Royal Wedding (remember that? Feh) and I would be willing to put seven pounds and fifteen pence (the price of Primark's executive range suit jacket) on the fact that they sold like the proverbial hot cakes. Or crack. It's a sad indictment of the general public's appetite for regurgitated ideas and it makes me want to cry man tears.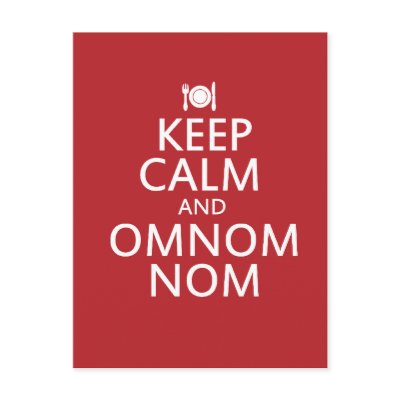 Omnomnom is also funny. Sigh.
Hilarious.

Where's all of the originality? Of course, it's everywhere! That isn't the point. These posters aren't being created by design or
advertising
agencies, serious artists, typographers or anybody with any real hope of breaking the mould. They're the equivalent of this:
In Non-Star Wars, hats were very much 'in'.
People as a whole don't like innovation. How else do you explain reality television? People watching people doing the same stuff they just finished doing earlier. It's possibly a good thing, because we live in an age of rapidly-evolving technology and if everyone was to strive for innovation, the robot apocalypse would be upon us faster than you can say "common sci-fi trope". Instead, we're content to repeat the same actions, drink the same drinks, eat the same food, read the same stories, watch the same films, drive the same cars ad infinitum. Well, apart from when Steve Jobs announces... oh, yeah.
Anyway, I'm drifting here. But you know what? The Keep Calm clan aren't unique in the world of overused 21st Century posters. There's also this fella:
Shiny new prez!
If you need me to link to parodies, pastiches and blatant cash-ins that have cropped up in the wake of Shepard Fairey's artistic lovechild, you might want to go back to sitting in the corner with a ball of string. You CAN'T MOVE ON THE INTERNET for this thing, even after all these years (you can't move on the internet anyway, but you know what I mean). Google it and the world turns into pork. Seriously.
So I would like to take this opportunity to tell the world that you can all stop now. I have created the ultimate parody of both of these in one neat image. There is no point in trying to go further, for you will only look like the guy who still says "NOT!" at the end of a perfectly decent sarcastic remark. Wayne's World was a long time ago. World War 2 was even longer of the agoes. Stop it. Stop. Here, take this and explode in isolation. All hail your new poster overlord.
*
PS: Ed and Josh, the guys on the table next to us at Thought Bubble, had variations on the Keep Calm and the Hope posters. I feel like a prize turd for essentially lumping them in with the rest of the people I'm slagging off, but I will qualify it with this statement: It's bloody hard for freelance artists to make a profit at comic conventions and frankly I think they did the right thing.
* Oh, and I will be making this poster available to buy so I can cash in on the success of others.